More from Local Living Italy—Amalfi Coast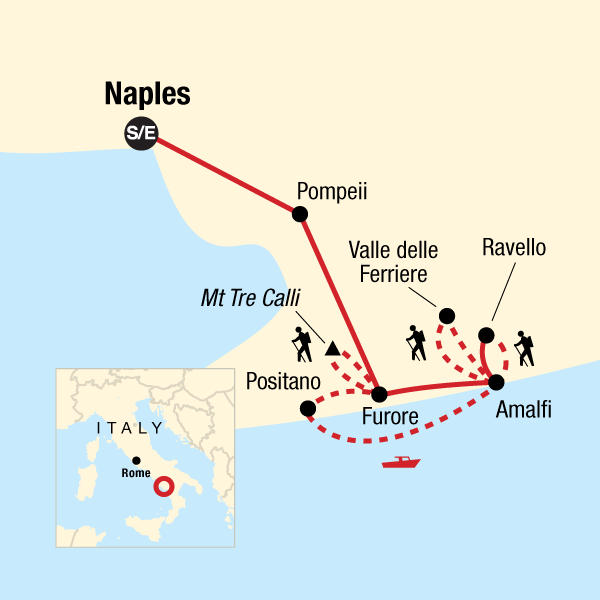 Places visited
Itinerary
Day 2
Naples/Furore
Start the day with a G Adventures supported migrant-led tour of Naples. Afterwards, travel to Pompeii to enjoy a guided tour of the partially buried ruins before transferring to a beautiful agriturismo nestled in the hills above the Amalfi Coast. Enjoy the first of many delicious home cooked Italian dinners and one of three cooking demonstrations.
Meals included:
Breakfast | Dinner
Day 3
Furore
Hike to the Valle delle Ferriere, the first of several hikes in this beautiful part of Italy.
Meals included:
Breakfast | Dinner
Day 4
Furore
Set off from Amalfi to the tiny coastal village of Atrani, then continue uphill to the beautiful town of Ravello, perched high above the Mediterranean.
Meals included:
Breakfast | Dinner
Day 5
Furore
Hike up the mountain slopes of Mt Tre Calli. Dinner will be well deserved.
Meals included:
Breakfast | Dinner
Day 6
Furore
Enjoy some down time to explore the area or just kick back and relax at the agriturismo. Enjoy a cooking demonstration before dinner.
Meals included:
Breakfast | Dinner
Day 7
Furore
Set off on the famous "Path of the Gods" along the Amalfi Coast, finishing up in quaint Positano. Take a scenic ferry ride along the coast to Amalfi, then return to the agriturismo in time for a final dinner feast.
Meals included:
Breakfast | Lunch | Dinner
Day 8
Furore/Naples
Transfer to the Naples train station and depart in the early afternoon.
Meals included:
Breakfast
View full itinerary
What's Included
Your G for Good Moment:

Migrantour with Co-op Casba, Naples

Your Welcome Moment:

Meet Your CEO and Group
Guided tour of Pompeii
Organized hikes and excursions from Furore (6 days)
Visit to Amalfi and Ravello
Scenic ferry ride from Positano to Amalfi
Cooking demonstrations at the agriturismo
Orientation walk in Naples
Transport between destinations and included activities
Accommodations
Hotel (1 nt), locally owned agriturismo/guesthouse (6 nts).
Meals
7 breakfasts, 1 lunch, 6 dinners
Allow USD170-225 for meals not included.
Transportation
Minibus, public ferry, walking.
Staff & experts
CEO (Chief Experience Officer) throughout, local guide.