blog home
See Central America and Mexico from the comfort of your couch
We're excited to announce Central America and Mexico as our next virtual small group tour location, to be led by G Adventures' long-standing CEO (Chief Experience Officer), Jon Berrocal!
We're excited to announce Central America and Mexico as our next virtual small group tour location, to be led by G Adventures' long-standing CEO (Chief Experience Officer), Jon Berrocal!
The first trip takes place on Tuesday May 5, 2020 at 12:00pm EDT and virtual travellers can sign up here. We wanted to chat to Jon to get to know him a little better, before we virtually travel together. Here's what we learned about him…
Where are you from and where do you lead tours?
Jon: My name is Jon Berrocal and I'm from Bilbao in the Basque Country in the north of Spain. I was a computer science engineer in Spain, but always loved travelling. One day I realised I didn't want to work in an office anymore. I was trying to figure out what to do with my life, and met someone who worked for G Adventures while I was snorkeling in Caye Caulker, Belize. The rest is history! I have been based in Central America for almost five years, and lead tours in eight countries: Costa Rica, Nicaragua, El Salvador, Nicaragua, Honduras, Guatemala, Belize, and Mexico. The "looptail" is I also studied marketing and communications in between, so it's serendipitous I'm now here leading this virtual tour for our travellers.
How long have you been a CEO for G Adventures?
Jon: I've been a CEO since October 2015, so four and a half years now.
What is the one must-try local dish or drink in Guatemala?
Jon: As a local dish, definitely the "Chicken Pepian", which is a chicken stew cooked with different vegetables, and herbs and spices. It is delicious! As for drinks, you must try the "Jamaica Flower" which is an iced tea made from the hibiscus flower, it is very refreshing. And then there is the flavored quetzalteca which is a local hard liquor — my favorite flavor is the Jamaica one as well.
Tell us one secret, not-to-be-missed spot on your tour, and why it is so special.
Jon: La Canche restaurant in Antigua. It really is a hidden gem, like a speakeasy. It doesn't look like a restaurant and has no sign at all. It is a grocery store, but if you cross the counter, you'll reach a little dining area with just two tables and next to it in a little room, and three big pots with homemade food cooked by a lovely local lady. There is not even a menu! But the food is delicious, the place is so local and authentic (You actually sit down next to people that you don't know, and everyone ends up talking to each other) and it is very affordable. I feel like I just gave my best kept secret away!
After travelling with you, what three words would you want your travellers to use to describe your region?
Jon: Authentic, cute, outstanding.
What books/novels would you recommend to travellers who want to escape via literature?
Jon: Polo Vuh, the sacred book from the Mayans, to be able to learn about their legends and history.
What is your favourite place to travel to (not including your region)?
Jon: Perú, because of the amazing hikes, the food (Causas, ceviches...need I say more). They have the best food in Latin America. Plus there is the Inca culture and most importantly the incredible Peruvian people.
If you're looking to familiarise yourself with the destination before you virtually head off, Jon has also hosted a new, pre-recorded virtual walking tour of the beautiful city of Antigua. Please join Jon on a tour to learn about Antigua's best-kept secrets, stunning lookouts, and local eats below!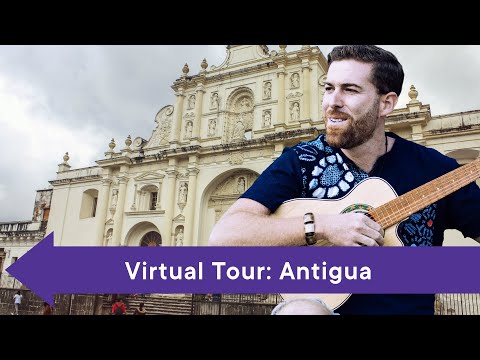 G Adventures will continue to add elements and destinations to the new Virtual Travel Experiences. For more information please visit https://gadventures.com/blog
Delete post?
Are you sure you want to delete this blog post? This cannot be undone.
Note: If you only want to remove this post from public view, you can choose to unpublish it instead.