blog home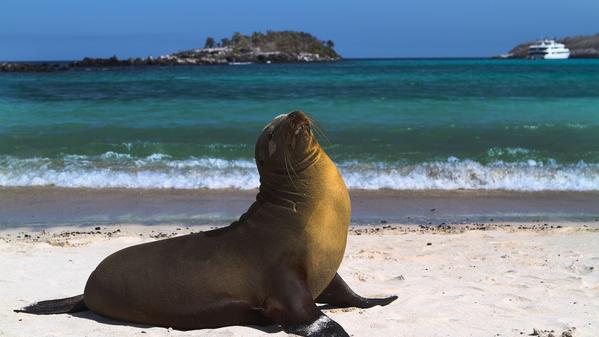 The Real Residents of the Galápagos: Falling in Love with Sea lions
Learn more about what makes these creatures so endearing.
Posted on 03 January 2014
They cuddle, they kiss, they run funny, they swim beautifully —?and they're everywhere. -Not just on beaches and uninhabited islands, they live in the towns, on benches, next to parked cars, or wherever they feel like they want to hang out.
Sea lions are not just adorable, they are highly entertaining and fascinating animals.
To me it felt like they were the real residents on the Galápagos Islands—and, while their population tends to fluctuate, there are approximately 20–50,000 of them.
And no one can disturb them as the majority of the Galápagos population is protected, the islands are a part of the Ecuadorian National Park surrounded by a marine resources reserve. Although the Galápagos is a popular destination, strict rules protect all wildlife from disturbance. Regardless, if you do get too close to the male sea lions, they'll charge you to protect their harem, which can be as big as 25 females!
Sea lions are so much fun to watch because they are very social and have such a playful nature to them. The sound you will hear from them the most is similar to the barking from a dog. As such, they have even been described as the informal welcoming committee for visitors to the Galápagos.
You can swim and snorkel with them or just stand there watching them for hours—how they cuddle and play with each other, how they roll around in the sand, how they communicate with each other, how they look like models showing off their beautiful bodies.
I took home the most wonderful memories of these amazing animals and when I now think of the Galapágos, I think of sea lions!
Have a look at my selection of photos from all across the Galápagos and fall in love with these incredible creatures!
---
Getting There
G Adventures runs a number of departures to the Galápagos Islands encompassing a wide range of departure dates and activities to cater for different tastes. We're thrilled at the prospect of showing you this big blue planet of ours — check out our small group trips here.
Delete post?
Are you sure you want to delete this blog post? This cannot be undone.
Note: If you only want to remove this post from public view, you can choose to unpublish it instead.