blog home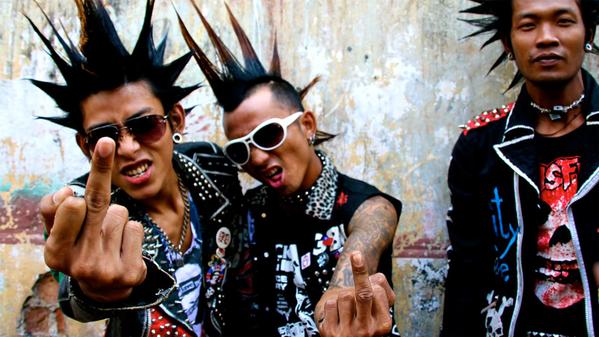 Punks on Hope: Burma's Underground Music Scene
Yangon calling! In Burma, the punk scene isn't just an affectation for disaffected youth, it's a rallying cry that has helped to provoke sweeping reforms that are changing the political landscape. Today on the Looptail — check out "Punks on Hope", an introduction to Burma's underground music scene. Hey, ho. Let's go
Posted on 23 January 2014
Kurt Cobain believed that punk, at its most elemental, was "musical freedom." "It's saying, doing, and playing what you want," he once wrote. Cobain's band, Nirvana, meant freedom from pain, suffering and the external world – and that was pretty close to his definition of "punk."
So is punk a celebration of freedom? Is it about rebelling against oppression? Or is it nothing more than a surefire way to move t-shirts? Trying to define a genre that'll get up in your grill when you dare to slap a label on it is tough at the best of times. Trying to understand it in the context of Burma (Myanmar), where it flourished in the shadows of one of the world's most authoritarian regimes, is tougher still.
In Burma, the punk ethos isn't just an affectation for disaffected youth, it's a rallying cry that has helped to provoke sweeping reforms that are changing the political landscape.
Oi! You can't get more punk than that.
Yangon calling
While the punk scene is frequently characterized as being progressive, its politics are all over the place. At its core, however, is an anti-establishment streak concerned with individual freedom. It's ironic that given Burma's history of political persecution, the punk scene has been irrepressibly rocking its capital, Yangon, for about a decade.
Anarchy in the SEA
After almost 50 years of harsh military rule, a quasi-civilian government installed two years ago has implemented sweeping reforms, releasing pro-democracy opposition leader Aung San Suu Kyi from house arrest, and relaxing restrictions against peaceful assembly and free speech. In response, the bands of Burma's punk scene have grown more emboldened and their music more explicitly socio-political.
Once required to submit lyrics to the government before they could even be cleared for performance or recording, Burma's music industry consisted almost entirely of cover bands playing innocuous Western classics that had passed the censors. Want to hear "Hotel California" one more time, anyone?
Burma's punk scene grew up in response to those homegrown bands that were still dependent on the traditional (and government-approved) rock music blueprint. Today, they no longer require state approval, but bands have become very adept at crafting metaphors to drive their agenda home.
Hey ho, let's go
In Burma, the country's punk rock scene has been percolating for about a decade, when musicians joined one another in brazen opposition to the country's ruling junta. During military rule, this tiny punk community practiced and performed in secret, often in abandoned warehouses, railroad yards or in private before small groups of friends and colleagues. While others were intimidated by the ever-present threat of arrest and imprisonment, notable bands like Side Effect, Broken Order, No U Turn, and Rebel Riot screamed out against abuses at the hands of the junta and sang about politically-connected businessmen getting rich while the rest of the country suffered.
It's not illegal to rock & roll—or is it?
In the West—especially in the USA or the UK—punk has a long and storied tradition. In Burma, however, the disenfranchised and disaffected are just discovering its anarchic energy—despite the risks to freedom that persist in spite of the country's sweeping reforms.
More than 25 years ago, on the other side of the world on his first US tour, Nirvana's Kurt Cobain smashed a Fender Mustang guitar, which he later traded to a fellow guitarist. Before handing it over, Cobain signed the Fender and inscribed it with a slogan that's passed into rock & roll lore—a slogan by which the young punks of Burma live by today: "If it's illegal to rock and roll, throw my ass in jail!"
And that's as close to the definition of punk as one can hope to get.
---
Learn More
Interested in learning more about Burma's underground music scene? Check out_?Yangon Calling: Music, Subculture and Politics_—an award-winning book and documentary on Yangon's music scene made by Berlin-based filmmaker Alexander Dluzak, whose photos grace this post. From hip-hop to street art, metal, hardcore—and much more—this is the the entire Burmese underground scene in one package.
Delete post?
Are you sure you want to delete this blog post? This cannot be undone.
Note: If you only want to remove this post from public view, you can choose to unpublish it instead.